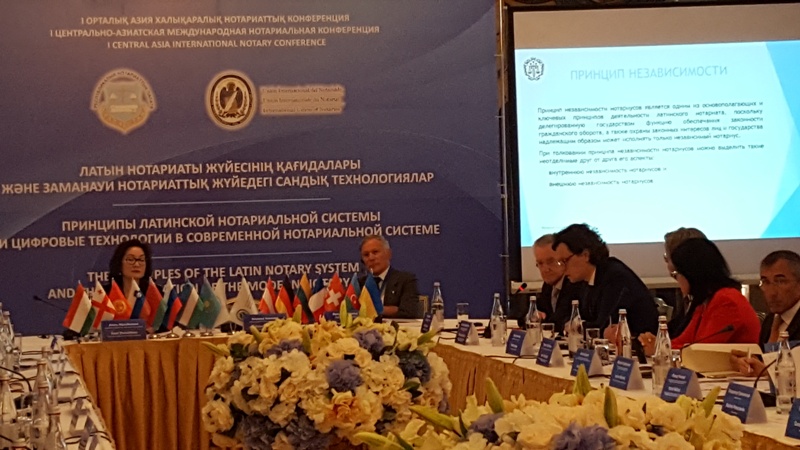 Representatives from notariats of Central Asian and European countries as well as international notarial organizations met in Kazakhstan capital Nursultan (former Astana) in mid-June, 2019, in order to discuss the goals of accession to International Union of Notaries (UINL) and ongoing notarial reforms.
The conference, dedicated to the principles of the Latin notary system, took place on June 13-14 under initiative of Chamber of Notaries of Kazakhstan and UINL's International Commission on Notarial Co-operation (CCNI), which oversees the processes of notarial reforms in the world. The event was attended by delegates from Uzbekistan, Kyrgyzstan, Tajikistan, Azerbaijan, Russian Federation and Belarus, as well as representatives from the Parliament and Government of the Republic of Kazakhstan. CCNI was represented by its President Franz Leopold (Austria), CCNI secretary Swiss notary Roland Niklaus, members Richard Bock (Vice President of German Federal Chamber of Notaries) and Marius Stračkaitis (President of Lithuanian Chamber of Notaries).
Ongoing notarial reforms and legal environment in Kazakhstan and its Central Asian neighbors have been discussed during the two-day sessions, as well as experience and notarial developments in UINL member state Russia and Belarus, which is aspiring for membership.
Among other presenters, M. Stračkaitis introduced the basic principles of Latin type of notariat, emphasizing notary's independence, objectiveness, protection of professional secrets and fair competition.
Aside of attending the conference, UINL's CCNI delegates R. Bock and M. Stračkaitis met with the officials of Ministry of Justice of Republic of Kazakhstan and other governmental representatives (pictures below).